GRM
Junior Member






Offline



Joined: 03 Jun 2009
Posts: 47


City: Binbrook
Posted: Fri 11 Jan - 22:09 (2013)

 

   Post subject: D1 Polini 40CC

---

For Sale:  D1 with Polini 3 port 40CC with a Gianinni Racing top end, BZM 3 shoe clutch, Dellorto SHA 16mm, PMT T41 medium compound tires, brand new DM red anodized aluminium seat subframe.  New in box Dellorto PHBG 18mm spare carb, Dellorto jets 75 -105, new in bag BZM 80mm clutch drum, etc, etc, etc.

Cheap!

Let me know if you're interested.


Admin
Administrator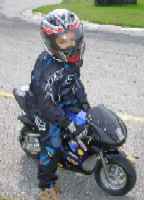 Offline



Joined: 01 Jun 2009
Posts: 148


City: Angus


Posted: Sun 24 Mar - 10:36 (2013)

 

   Post subject: D1 Polini 40CC

---

Hi!  Been a long time since there has been activity on this site   My hubby lost his mini moto to my son so he needs another one.  What type of price are you asking?  I have no idea what these go for, but I'm sure you will give me a fair price.  We are hoping to get back into riding this year as Seb only got to ride on our street / court last year .

Liann
_________________
Thanks!
Liann